Amerigo delivers strong Q2 2020 production results
Amerigo Resources Ltd. ("Amerigo" or the "Company") (TSX: ARG) announced today Q2-2020 production results from Minera Valle Central ("MVC"), the Company's 100% owned operation located near Rancagua, Chile.
MVC produced 12.97 million pounds ("M lbs") of copper at a cash cost of US$1.72/lb per pound, and 0.35 M lbs of molybdenum. In Q2-2020, MVC's copper production from fresh and Cauquenes tailings increased 20% compared to Q1-2020.
Copper production results are in line with the Company's 2020 guidance (refer to our news release of February 19, 2020) where the Company announced a reduction in Cauquenes tonnage processing to approximately 40,000 tonnes per day ("TPD") through H1-2020 in response to drought conditions then present in central Chile.
In Q2-2020, processing rates averaged 119,435 TPD for fresh tailings and 35,875 TPD for Cauquenes. Copper grade in fresh tailings was slightly higher than expected and recoveries from fresh and Cauquenes tailings also exceeded initial expectations in response to MVC's initial plant debottlenecking initiatives. Operating days in Q2-2020 were 91/91 for fresh tailings and 89/91 for Cauquenes. Two days of operation were lost in Cauquenes in late June due to strong rainfall.
Q2-2020 cash cost was US$1.72 per pound ("/lb"), US$0.13/lb lower than the Company's latest cash cost guidance for the second quarter and US$0.22/lb lower than cash cost in Q1-2020.
MVC's operations continued through Q2-2020 without any significant disruptions due to Covid-19 and MVC's response to Covid-19 was praised by Chile's Mining Ministry.

Production results for the most recent five quarters are summarized below: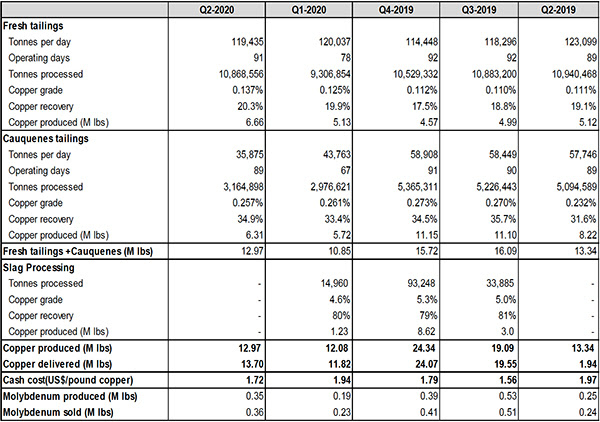 As previously disclosed by the Company, the central region of Chile where MVC is located experienced lower than normal rain in 2018 (total annual rainfall of 291 mm1) and a severe drought in 2019 (total annual rainfall of 124 mm) compared to normal annual rainfall of approximately 410 mm. In 2020, the rain season started in the second half of June, with very heavy rainfall. Rain has continued into July and is expected to continue at least until the end of this month.
The following table was updated to July 15, 2020 and shows cumulative rainfall of 309 mm as of that date, essentially 75% of normal annual rainfall in the region.
1 Each millimeter ("mm") of measured precipitation is the equivalent of one liter of rainfall per square meter.
Intense rainfall resulted in 2 days of lost production in Cauquenes in June and 10 days of lost production in Cauquenes in July. Despite these lost days, the Company continues to expect to meet production guidance for 2020, as processing rates at Cauquenes have started to increase in response to more water availability at MVC.
Water reserves at Colihues have also increased from a low point of 300,000 cubic meters earlier in 2020 to 8 million cubic meters, a level not seen since February 2018. The positive effect of rainfall in fresh tailings is not yet seen as El Teniente is located at a higher altitude than MVC and will only see the benefits of the 2020 rain season as snow starts to melt in the fourth quarter of the year.
The Company's production forecast for H2-2020 assumes: (i) increased processing rates from Cauquenes, which have been achieved in July, (ii) lower processing rates from fresh tailings in Q3-2020 associated with reduced activity at El Teniente due to Covid-19, and (iii) the known impact of debottlenecking initiatives implemented to date. Cash costs will step down progressively in Q3-2020 and Q4-2020, primarily due to increased production at Cauquenes. MVC continues to work on additional initiatives to improve plant performance.
Under these assumptions, MVC estimates that it will produce 56 million pounds of copper in 2020 at a cash cost of $1.67/lb. Additional information is included in the following table.
About Amerigo and MVC
Amerigo Resources Ltd. is an innovative copper producer with a long-term relationship with Corporación Nacional del Cobre de Chile ("Codelco"), the world's largest copper producer.
Amerigo produces copper concentrate at the MVC operation in Chile by processing fresh and historic tailings from Codelco's El Teniente mine, the world's largest underground copper mine.
(Visited 8 times, 1 visits today)